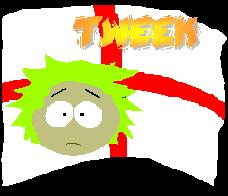 Occupation: Lazy Wastrel
Country: England
Personal Quote: I would be apathetic, but I can't be bothered, I NEED COFFEE
Age: Too old, Enough people know, so you might as well know too 40 (18/11/67)
Sex: I'm a boy
Hair Colour: Dark Brown, and a few grey ones :(
Eye Colour: Blue
Pets: None
Favourite TV shows: South Park, Futurama, most sci-fi, crime drama, whatevers on
A big thank you to: Cassie for setting up SSP to replace FSP, it is great to be back on discus, Ash and Cass for telling me to get AIM, I've made loads of new friends thanks to that, Ash for doing the name section on my updated Sigpic, Kace for setting up South Park Fandom.
How to get in touch with me: AIM, MSN, Yahoo, ICQ and Email
AIM: Friends only, ask nicely and I might tell you
MSN: tweekuk@hotmail.com
Yahoo: Tweekuk2000
ICQ: 136985866
Email:

tweekuk@hotmail.com

or

tweekuk2000@yahoo.co.uk

. If you have my AOL address use that though, I just don't want that one listed on the net as it is my main email and I don't want spam. I exchange emails with Ash, Amy, Alyssa, Holly, Lily and Akio (a friend of Lily's)
Who do I talk to on AIM?: Ashley, Cassie, Rachel, Molly, Amy, Natz, Randi, Aleel, Holly, Impy, Daniela, Melly, Missy, Kace, Alyssa, Lacey, Erin, Lily, Akio, Daka, Taryn, Paul, Juliet, Lizzie, Lauren, Katie, Melllvar, Anna, Flyer, Natalie, Andrea and Opod.
How many people are on my AIM buddy list?: 138, but several of those are people with more than one name, others I added but have never spoken to.
Who do I talk to on MSN?: Holly, Ashley, Erin, Daka, Natz, Amy, Amanda (SG), Lacey, Lily, Akio, Annie, Lucy, Charlotte, Impy, Cassie, Mandy, Missy, Rob, Hezza, Tim, Robert, Juliet.
How many people are on my MSN buddy list?: 41 but most are also on my AIM list, and a few have more than one name.
Who do I talk to on Yahoo?: Impy, Holly, Aleel, Lucy, Natz, Ashley, Lacey, Jessica, Amy, Daniela and Dread.
How many people are on my Yahoo buddy list?: 14, More of you should get it, the new version is great, you can see the other person if they switch their webcam on.
Who do I talk to on ICQ?: So far just Jamie the Scottish guy and Aleel, I rarely switched it on but now I have Trillian I switch it on with all the other chat thingies.
How many people are on my ICQ list?: 12 so far.
People I talk to in

#futuramachat

: Edel, Randi, Catz, Chelsea, Coilette, Lucy, Monkey, Damzl, Hilly, Atropine, Amy, Jon, Kip, MkTai, DrThunder, Flamekiller, Ravenstar, Nick, Ninaka, Slimmy amonst others I forget right now.
People I talk to in
#spacefem
: Panda, RD, Mikey, Helium, Daka, Tappy, Wiccy, Lizzie, Pnk, Ama, MsWillow, Lizzy, Darkliquid, MFS, Newly, Pastel, Butterball, Kirby, Lillerina, Mousy, Durel, Storage and Arcanthus.
My PEEL rank: DOOP Secretary, when I was a Starship Captain I named my ship the "Little Angle", only Amy will get the joke though :-P I am also one of the moderators there.
Names I have used at FSP: Matthew Roberts, I NEED COFFEE, TOO MUCH PRESSURE, Smuggler of blue wine, I hate time zones, I got the 10,000th post, I still hate time zones, I decapitate pervs, Internet father I'M TOO OLD, I'm bored, where is everybody?, I'm less bored now, I drink a gallon of coffee a day, My brain is broken, I've got a new brain, I eat 11year old food! , I've been given two brains, I'm living in fear, I'm just a minion, I really missed the board, Member of the Happy Noodle Party , Secretary of the Happy Noodle Party, I can't take this kind of pressure, Always look on the bright side of life.
Names I have used at SSP: Tweek, I need coffee, Time zones suck, Thinking hurts my brain.
Nicknames I've had: Matt, Math, Mad Matt (at college), Indiana Matt (I used to wear a bush hat all the time), Tweek, Tweeky, Tweeky Pie and Tweekers
My PEEL avatar:

Favourites and least favourites: Not that you care
Favourite Films: SP:BLU, any Bond Films, Tarantino films, anything from Studio Ghibli, comedy, Sci-fi I'm not very fussy
Favourite Authors: Gerald Seymour, Craig Thomas & other thriller writers, the late, great Douglas Adams for the Hitchhikers guide.
Favourite Drinks: Coffee, obviously, real ale, single malt whisky (as a treat)

Least favourite Drinks: Caffeine free coffee, what is it for?

Favourite Food: Roast Beef and Yorkshire pudding, roast potatoes and broccoli in a cheese sauce

Favourite Pies: Steak & kidney (main course) apple and cinnamon (pudding)
Favourite Colour: Blue, but I also like green
Favourite Pubs: The Chequers in Binham, The Goat, Fat Cat, Palmerston Arms, Charters, Bogarts, Bishop & Wolf, Geordies Bar I'm sure there are more that I cant think of right now
Countries I have visited: England, Wales, Scotland, Ireland (North & South), Bermuda (I lived there for 5 years), United States, Trinidad, St Thomas, Puerto Rico, St Maartin (French & Dutch halves), West Germany, Holland, France, South Africa, Lesotho, Botswana, Namibia, Zimbabwe, Zambia, Malawi, Australia, Fiji and Mexico
Schools I used to go to: Lickey End Primary (72-76), Saltus Junior (76-79), Saltus Senior (79-81), Kingham Hill (81-87).University: RMCS Shrivenham (87-90, and Worcester College of Higher Education(92-93)
Hobbies: When Im at home there is nothing I enjoy more than chatting to my OL friends. I also go birdwatching all over the country, enjoy a half or five of real ale at a good pub and doing the cryptic crossword in the Telegraph
And if I want to find a site?:

Google

, A brilliant search engine, they also have a great

image search

facility
So how many different birds have I seen?: 478, different species in UK and Ireland (correct 11/10/08)

Most recent "new" bird: Great Snipe Near Bempton in East Yorkshire (17/09/08)
So how many different beers have I sampled?: 1769, from independent British breweries (correct 11/10/08)

Most recent "new" beer: Norfolk Sunset from the Front Street Brewery 4,0% ABV at The Chequers in Binham.
Do I do any sports: Not any more, I used to go rock climbing but there are no hills let alone rocks in the Fens. I also did rifle and pistol shooting at college, we got to fire military weapons :-)
What scares me: Wasps, and hornets, I'm sure they were put on Earth just to torment me, crowds, the idea that my computer will break down, I won't be able to get OL and my OL friends will think I've just gone and am being rude by not speaking with them, getting OL and finding that the board isn't working
Have I got any Siblings: I've got a younger brother (Guy) aged 38, he is married with four children
So that means I'm an uncle: Yup it does they are great kids: Jacob, Megan, Joseph and Gabriel